+

Sweet & Petite + Warm & Genuine + Goddess of Geek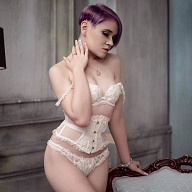 "Sometimes demure, sometimes tenacious, she was always open, honest and caring. In just a few hours she reinvigorated my self confidence and my long-neglected … identity."
'…she's mad, but she's magic - there's no lie in her fire.'
- Charles Bukowski -
—
I've spent many amazing years indulging my zest for life and enjoying adventures in all the spaces I've been lucky enough to drift into. I live and love to explore and with my thirties fast approaching (I'm aging rather well, don't you think?) - I can't what to see what happens next and who I'll get the chance to meet.
I'm delightfully honest and deliciously blunt - for this I make no apologies.
I aim, more than anything, to indulge you - but I entered this world in part to satiate my own curiosity & thirsts - I hope you're willing to help me with this. The wicked chemistry we can create, will make our time together all the sweeter. My goal is to indulge & enjoy - whilst respecting our shared boundaries and interests. I'm not a performance artist, despite time spent in front of the camera. I won't put on a show asked. What you get from me privately is exactly the same as the relaxed & spontaneous human I like to be in my personal life.
Take your time getting to know me - I won't rush you - and I promise you'll be well rewarded for your efforts.
If you're hoping for new experiences - you're safe with me.
If you require a companion on your adventures, or a confidant for a few hours - I can help with that.
I'm an open book online, with a public profile that's allowed me to act as an advocate for the subjects I'm passionate about. I have a wicked sense of humor and I'll have you matched in conversation. Discretion is absolutely at the core of what I do. We'll spend time in places both public and private. I'll shine on your arm - but I'm also adaptable and will ease comfortably in to any social situation like we're old friends. You'll find I live to entertain and love to make you laugh.
My promise is when you meet me you'll find:
- the warmth and sensitivity of a partner
- the security and comfort of a best friend
- the thrill and wanderlust of a heroine and
- the temptation & tension of that moment before lips meet.
I know this, because that's who I am.
Come see for yourself…
—
'She's the kind of woman that will drive you crazy by doing absolutely nothing except being herself…'
The Look
Lucie Bee is a 5'2", slender, 29 year old caucasian woman with short blonde hair and blue eyes.
She is available for Male, and Trans.
Interests
If I look familiar, it might be because you've caught me on your favorite adult site. Or between the pages, or on the cover of Penthouse Magazine. You might have heard me on the radio, (Triple J, Triple M etc) or seen me in the news. Better yet, you spotted me at your local convention in Cosplay or talking about gaming at PAX.
I love what I do - ALL that I do and I love to share and talk about it. Ask me anything.
Expectations
I try to keep my requests & expectations very simple and I appreciate you working with me to ensure the booking process is streamlined and fuss free for both of us.
- My availability is quite accomodating, but please be aware that I'm not able to travel great distances outside the CBD wherever I'm based or happen to be visiting and I also tend to avoid home visits with those I've not yet had the chance to meet.
- Please include in your inquiry: Your name, your location, what time & how long you'd like to book for and any special requests you might have. This helps me help you.
- If we haven't met before, I may ask that you assist me with screening. Sending me a reference from another companion you've spent time with, a form of ID (with your address blocked out etc is totally fine, I absolutely want you to feel comfortable) or a deposit helps me to feel safe and confident in arranging to spend time with you. I so, so appreciate your understanding when it comes to this.
- For longer appointments, such as dinners, overnights or longer adventures a small deposit is always recommended and very much appreciated. For appointments involving travel (interstate etc), pre-payment is preferred to help me arrange my commute. I will always ensure that my travel arrangements are budget friendly - I do not insist on business class travel etc (I'm short and sweet - an economy seat is just fine!) - just that I'm safe and that timing fits within both of our schedules nicely.
- What we do in our time together is private and based entirely around connection, hygiene and local statutes.