+

Hydrate your Heart, Receive, Relax and embody 6 senses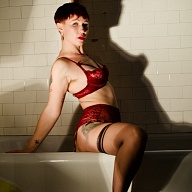 She turned her Can'ts into Cans and her dreams into plans
A wise sprite, an educated, sophisticated woman with an aire of innocence.
A loving, grounded touch from a Magic Woman, a Tantrika, a natural sensualist; a deep believer in the healing power of pleasure.
Honoring all of the senses, welcome to a safe space to honor your whole health.
We have within us the capacity to heal.
Allowing your central nervous system to relax and rest, while fully receiving the gift of intuitive, nurturing touch, has the potential to unlock and release your deep inner reservoirs of health and wellness.
I am here to rejuvinate and replenish your physical self, mind and soul.
I'm an artist, a light-hearted philosopher, a friend, a muse, an earth-mother, a cosmic goddess dancing in tune to the rhythm of life and all that is Just, Creative, Expansive + divinely pleasing to the senses.
Let's dance this dance of you embodying your divine, healing feminine. I want to fill you with your own immense beauty…
The Look
Charlie Cherish is a 5'5", curvy, all natural, 35 year old caucasian woman with short red hair and hazel eyes.
Interests
Reading
Writing
Dancing
Nature, Hikes, Swimming, Gardening, Permaculture, Sustainable farming and building
Animals, Humans
Music
Sex-Positive Education
Envisioning Healthier futures and communities through the juiciest means
Social/Racial/Gender Justice
Gonna come see me?
Yes I like Gifts!
And I like you more when you shop local ;) Nola tips for pleasing me-
Candles and oils and anything else magical from here-
F & F Botanica and Candle Shop on Broad st
Books and Flowers and other lovely art-things from-
The Rubber Library + Flower Bodega on Dauphine St
Books from the used bookstore on Dauphine St
Herbs, Teas, Tinctures and other Healing tools from-
Maypop Herb Shop on St Claude Ave
House plants from-
Harolds Plants on St Claude ave
Roll on body oils, more candles, incense from
The Herb Shop on Canal st
Expectations
I would like to thank you in advance for respecting my time and booking in advance.
I also thank you for coming to the session in a state of full receptivity, showered, hydrated, sober and with your donation gift ready to leave at the altar.
Receiving all that I have to give with honor and appreciation.
I realize that the construction of modern masculinity tells us differently, yet the truth of the universe and of physics is that there is great power in receiving.
I am honored and grateful to serve you, to share my gifts and healing presence, and to connect on this relentlessly ecstatic path of healing and awakening.
Contact Info
Contact
Information
Add Charlie Cherish to...